I've always wondered how Narendra Modi, someone accused by the opposition of initiating and condoning the 2002 Gujarat riots, was able to hold the post of Chief minister for a whopping 13 years after the riots. I sometimes wondered if it was because the people of Gujarat believed that he had done justice to the 59 victims of the Sabarmati Express incident, who were burnt alive by fringe elements. I realized I was completely wrong when I stumbled upon the phrase 'Gujarat model' on the internet and how Modi transformed a desert like Gujarat into one of the top most states in terms of development, electricity production, investments and tourism. Gujarat, with no major river originating there, practically has very limited hydro-electricity potential. From being a power deficient state in 2000 to becoming a power surplus state in 2005, Modi achieved what no other state chief minister could even dream of, in a span of 5 years. With schemes like  Jyoti Gram Yojana he was able to electrify all 18,000 villages and 9700 halmets in a span of 5 years. He made the best use of limited resources Gujarat had and he showed it to the world through his pet project 'Canal solar power project' which now generates 1MW of clean energy while stopping evaporation of canal water at the same time.
His model of Gujarat is centered on trade and being business friendly. A perfect example is the Tata's Nano incident. In 2008, the Tatas were kicked out from West Bengal in the aftermath of Singur controversy. Their plans for building Nano were out. In a record 14 months, Modi was able to help Ratan Tata build a plant in Sanand from scratch. From nowhere, Gujarat found itself on the automotive map. In 3-4 years time, Gujarat was able to challenge the automotive leader- Tamil Nadu. Gujarat now tops the "ease of doing business" list.
When Modi was declared as the PM candidate of BJP in September 2013, within a few months it was quite evident that there would be a saffron wave across the country in the upcoming 2014 general elections, thanks to the epic interview of Rahul Gandhi by Arnab Goswami. With no strong opposition and with Modi's well articulated sententious speeches in his rallies across the country, his final touch to victory was given by the BJP's manifesto. After 65 years of complete corruption and endless scams by the UPA, focus on issues like ensuring minimization of black money,  putting in place strict measures and special courts to stop hoarding and black marketing,  eliminating corruption through public awareness,  e-governance, rationalization and simplification of tax regime were visual treats. Issues like construction of Ram temple in Ayodhya, Return of Kashmiri Pandits to the land of their ancestors with full dignity and security and abrogation of section 370 pleased the conservative section of the majority population. On May 16th the NDA secured a historic victory with over 330 seats, decimating the Congress to its lowest number of seats since independence and bringing in a new hope of 'Congress Mukth Bharat'.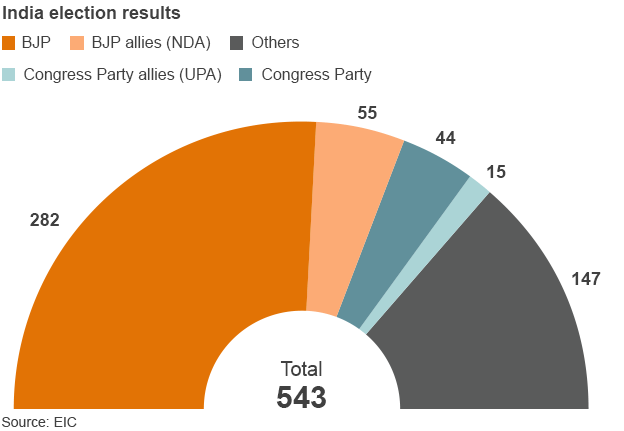 "The people of this country have given their verdict. This verdict says we have to make the dreams of 1.25 billion people come true. I must work hard." were the first words of Narendra Modi post his momentous victory.
Finally, a change that the entire country was yearning for and perhaps for the very first time the youth of the nation started showing interest in politics. After years of discussions about scams, from bofors scam to the coal scam, the media started talking about development, and for a change there were  debates if the development agenda of BJP would be enough for India to propel it into the global markets.
   "I believe government has no business to do business. The focus should be on Minimum Government but Maximum Governance." Modi said.
He demonstrated this in his initial days as the Prime Minister by reducing the number of Ministers by over 35% from 71 in the previous UPA term to 46. Imagine the amount of tax payers money saved by just reducing the government size. With his regular foreign tours Modi brought in investments over 100 Billion $ and his pet project 'Make in India' gained huge momentum. Foxconn, the manufacturer of I-Phones announced plans of setting up 10-12 facilities across the country, India has started exporting Metro rail coaches, Mercedes Benz is manufacturing a huge chunk of their parts in India and also started producing and exporting luxury buses to Africa and South East Asian markets, the French company Rafale has said that 50% of the total deal value, approx. $4bn, will be invested in India within the defense and aerospace sector.All thanks to the Make in India scheme. Through his Swachh Bharat scheme, over 1 crore toilets have been constructed across the country. The latest addition to this scheme is the "Swachhata app" on google play store which requires you to just click a picture of garbage in any part of the country and the area corporation clears it in a few minutes (Tried this and it worked). With Ujjwala Yojana the government was able to give free gas connections to 15 million people in a span of 1 year. With modified Direct cash transfer scheme the middle class population felt the change when the LPG subsidy started to get deposited directly in the bank accounts of beneficiaries. The ambitious Jan Dhan Yojna has collected over Rs 6000 crore and banks in India have opened over 7.9 crore accounts. For the first time in history Air India started making profits and BSNL has seen its highest growth in the last 5 years. One field, where I am sure every one of us has experienced a pleasant change, is the Indian Railways. The railway minister is now just a tweet away and there have been numerous instances where the Railways has taken swift action after passengers tweeted their complaints. One Minister loved by not just people living in India but all the Indians living across the globe, even people of other nationalities, is Sushma Swaraj, the Union minister for external affairs. From Yemen evacuation to helping hundreds of people stuck abroad, if there's one person who has never let any Indian down its Sushma Swaraj. Transparency in government transactions has increased over tenfold with spectrum auction, coal auction, railway contracts all becoming online. After over 5 decades of struggle, ex-servicemen were delivered the One Rank One Pension scheme. From surgical strikes to demonetization, a majority of the country stood with the Prime Minister and showed their continuous support by ensuring back to back victories  for BJP in Uttar Pradesh, Goa, Manipur and Uttarakhand state elections.With GST bill being passed and with the new financial budget, I'm sure the middle class working population of the country will feel better and relieved from the heavy taxation burden.
Looking back at these 3 years, I can confidently say that India has come a long way and we are headed on the right path. Though certain aspects like job creation, Kashmir crisis, Maoist insurgency  and farmer suicides are yet to be addressed, I feel 3 years is a very small time and it would be unjust on my part to judge the current government's performance considering the damage done by the Congress government in the last 60 years.